Sign Up for Dry Clean Free Home / Office Delivery
We understand your busy schedule. Balancing work, family, and leisure time is not an easy task. You've been seeking a solution, and we've got just the thing for you – Lan's Lapels Free Pickup and Delivery Service
Imagine your workweek without the chore of laundry. No more rushing to the dry cleaners before they close. No more traffic. Simply fill up your bag with items needing care, and we'll do the rest. We'll stop by your home / office twice a week, whisking away your garments and returning them to you professionally cleaned and ready to wear.
In addition to our premium dry cleaning, we offer services for laundered shirts, shoe repair, and even alterations. With Lan's Lapels, you're not just outsourcing your laundry; you're upgrading your lifestyle.
So why wait? Step into a world where your dry cleaning comes to you. Experience our award-winning quality and service from the comfort of your own office. Start reclaiming your time today – Schedule your first pickup now with Lan's Lapels Free Pickup and Delivery Service!
Remember, time is your most valuable, irreplaceable asset. Don't spend it doing laundry. Let Lan's Lapels take care of it for you.
Our Massachusetts delivery service areas:
Andover
Bedford
Beverly
Billerica
Boxford
Burlington
Carlisle
Concord
Danvers
Gloucester
Lexington

Lincoln
Manchester-by-the-Sea
Middleton
North Andover
North Reading
Peabody
Sudbury
Wilmington
Woburn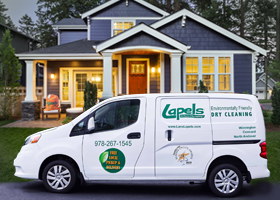 Frequently Asked Questions
To Use the Service
Place your clothes in the VIP bag that we have provided you.

Place the bag in a predesignated location — there is no need to be home

Your Lapels Dry Cleaning driver will pick up the VIP bag and deliver your cleaned clothes to you just a few days later. Simple, fast and convenient.
How Do I get Started?
You will be contacted by our representative to confirm your registration, pick-up/delivery day, and delivery location.




You will be provided a free VIP Garment Bag with instructions.




Place your bag in the predesignated location by 8am on your scheduled delivery day.
If you forget to put out your bag?
You can also drop off your VIP bag at the following locations:
Lapels, 209 Main Street, Wilmington




Lapels, 435 Winthrop Ave, North Andover




Lapels, 91 Thoreau Street, Concord




Lapels, 5900 Trade Center, 5th Floor, Woburn
Your clothes will be returned on your next scheduled delivery day.
How do I pay?
In addition to the convenience of our pick-up and delivery service, there is added convenience of credit card billing. Please note that all customer information given to Lapels is held in strictest confidence.
Your credit card will be charged upon delivery of your order.
Let Lapels Give You Something Money Can't Buy – TIME!
More FAQs
1. How does Lapels fold my clothes?
Your clothes will be folded beautifully and neatly just like Mom used to! We separate them by gender and size (as best as we can) to make them easy for you to put away.
2. How does Lapels wash my clothes?
We separate lights and darks then wash them in our unique environmentally friendly process (which helps remove stains that your home washer can't) with odor-free, non-allergenic and biodegradable detergent.
3. What items CAN I put in the Wash-Dry-Fold GREEN bag?
Please only put clothes that typically get folded like undershirts, pajamas, socks, spandex, underwear, jerseys, jeans, towels, etc. in the green bag. Wash-Dry-Fold items will not be pressed! If you want anything pressed then please use the orange bag that we will provide.
4. What items should I NOT put in the Wash-Dry-Fold GREEN bag?
Wash-Dry-Fold literally means we Wash then Dry then Fold so please do NOT put any dry clean or delicate items with materials like: silk, wool, linen, leather, fur, velvet, corduroy, OR any items that you want pressed in the green bag.
5. Can I put men's dress shirts, dress pants or other dry cleaning items in the Wash-Dry-Fold GREEN bag?
Please do NOT put any items in the Wash-Dry-Fold GREEN bag that you want pressed. Put these in a separate ORANGE bag (we also provide this for you.) Because those garments belong to Shirt Laundry and Dry Clean, they will be professionally cleaned and pressed, thus they will be charged by item.
6. What is the difference between Shirt Laundry and Shirt Dry Clean?
Most men's dress shirts are Shirt Laundry. This means that our process is: shirts are laundered, and then put on the shirt pressing machine while the shirt is still wet and pressed with HIGH TEMPERATURE. Thanks to our state of the art shirt pressing machine, we can press it much faster and keep our quality higher than others. This helps to reduce our labor costs so we can pass on the benefit to our customers of much lower prices compared to the dry cleaning process.
The shirt Dry Clean process is: we dry clean them (in GreenEarth® solvent), the dry cleaning process will dry the garments, then we STEAM the garments on our pressing machine (the temperature is much lower than the shirt pressing machine). That involves professional skills and techniques which are best for all garments with materials like silk, linen, wool, velvet, corduroy, spandex, polyester…
7. Can I put comforters and pillows in Wash-Dry-Fold bag?
Comforters, pillows, and blankets are not included in Wash-Dry-Fold membership. These will be charged separately as household items. However, you will get a discount on these items depending on which membership you are enrolled in.
8. Is same day service Wash-Dry-Fold available?
Same day Wash-Dry-Fold service is available on a walk-in basis only, Monday through Friday before 10AM, if you bring it to our North Andover location. Same day service is not available for other locations or for our Route pickup and delivery service.
9. Is there an extra cost for Pickup and Delivery?
No, our Pickup and Delivery service is ABSOLUTLY FREE. You pay the same as store price.
10. Which Wash Dry Fold Membership is right for me?
Silver Membership is ideal for a family up to 2. You will have 40 lbs free, plus 5% discount on dry clean items.
Gold Membership is ideal for a family of 2 to 4. You will have 90 lbs free, plus 10% discount on dry clean items.
Platinum Membership is ideal for a family of 4 to 6. You will have 250 lbs free, plus 20% discount on dry clean items.
11. How do I switch memberships?
If the membership you initially selected does not suit your needs, you can change your membership at any time. The new membership will take effect as soon as your current membership expires.
12. Is there a minimum order size?
If you use Wash-Dry-Fold service ON DEMAND, we have a minimum charge of 10 lbs.
If you use Wash-Dry-Fold MEMBERSHIP, there is no minimum.
13. What happens if I go over the pounds included free in my membership?
No problem. If your usage exceeds the amount of your membership, you will be charged a standard per pound fee for each additional pound depending on your membership level.
14. How long is the membership for?
The Wash-Dry-Fold membership is active from the date you sign up for a month (until the date before your sign up date on the following month). And it will automatically renew unless you cancel it. (To cancel, please give us a call or email us.)
15. What if I don't use all my pounds?
They will be lost if not used.
16. How do I cancel my membership?
Please call us or email to request canceling your membership.
17. Are there any additional charges?
You are charged per pound for each pound over your plan's limit. You are also charged separately for any items (such as dry cleaning items, comforters, pillows, blankets) not fitting into the Wash-Dry-Fold category. Your plan's dry cleaning discount is applied, and you are charged accordingly.
18. Will you treat stains for Laundry Shirts, especially collars, cuffs and front?
We do treat stains, with special care taken on collars, cuffs, and food stains. We are very proud of our quality; your shirts will be back looking like new.
19. Do you charge for replacing missing buttons on shirts?
We replace missing buttons on your shirts FREE of charge when you use our Shirt Laundry services. This is one of our high quality standards.
20. Can I recycle the hangers and plastic bags?
Yes! Just put the hangers (please tie them together so they won't damage your clothes) and plastic bags into one of our delivery bags with your clothing. We will recycle them for you.
21. Is your Dry Cleaning safe?
Our dry cleaning is non-toxic, environmentally friendly, safe for people, and gentle on clothes thanks to our GreenEarth® cleaning process.
The GreenEarth® process uses liquid silicone in place of petrochemicals. Essentially liquified sand, silicone is non-hazardous and non-toxic to the environment. When released to the environment, it safely breaks down into three elements it is made from: sand (SiO2) and trace amounts of water and carbon dioxide. Which means it is safe for the air, water, soil and most especially you.
Silicone fabric finishes can add softness, reduce shrinkage and improve wrinkle recovery, tear strength, abrasion resistance, and loft recovery.
You can see, smell and feel the difference!