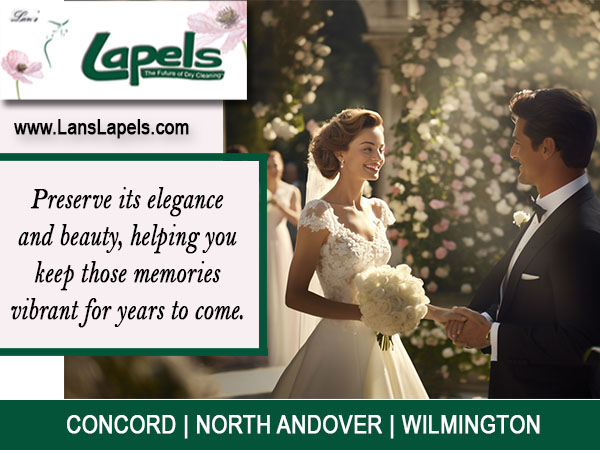 Bridal Gown Heir looming

Your wedding gown is so much more than just a dress. It's a symbol of love, joy, and the start of a beautiful journey. It's a cherished piece of clothing that holds precious memories of the day you said, "I do." At Lan's Lapels, we understand the emotional connection you share with your wedding gown. That's why we're dedicated to preserving its elegance and beauty, helping you keep those memories vibrant for years to come.

Why Preserve Your Gown?

Just as your love story is unique, so too is your wedding gown. It witnessed your vows, danced at your reception, and sparkled in your wedding photographs. Our wedding gown preservation service is designed to protect your gown from yellowing, staining, and degradation, allowing it to remain as stunning as the day you first wore it. Whether you're planning to pass it down through generations, or keep it as a sentimental memento, preserving your gown ensures that your wedding day remains a part of your everyday life.

Our Preservation Process

At Lan's Lapels, our preservation process is handled with the utmost care and attention to detail. Our professionals meticulously clean your gown, removing any stains or spots while ensuring the delicate fabric remains undamaged. We then pack your dress in a specially designed preservation box that provides a protective environment and prevents any potential damage from external factors.

Trust Us with Your Memories

We treat every gown that comes to us like our own, understanding the trust you put in us to care for such a significant symbol of your life's milestone. Our expert team is dedicated to preserving not just your gown but the cherished memories that it represents.

Turn Back Time

Every time you gaze upon your preserved wedding gown, you'll be instantly transported back to the magical moments of your wedding day. The laughter, the tears of joy, the warm wishes – all come alive, like a timeless love story that never ends.

Choose Lan's Lapels for your wedding gown preservation. Together, let's ensure that your beautiful moments remain immortal, just like your love.

Call us or

Sign Up

now to get your bridal gown cleaned and protected.