Frequently Asked Questions
1. How does Lapels fold my clothes?
Your clothes will be folded beautifully and neatly just like Mom used to! We separate them by gender and size (as best as we can) to make them easy for you to put away.
2. How does Lapels wash my clothes?
We separate lights and darks then wash them in our unique environmentally friendly process . It's a revolution in garment care. The Ozone Laundry System not only cleans but sanitizes your clothes, ensuring they are odor-free and allergen-free. It's like filling your home with freshness with each clean load.
3. What items CAN I put in the Wash-Dry-Fold GREEN bag?
Please only put clothes that typically get folded like undershirts, pajamas, socks, spandex, underwear, jerseys, jeans, towels, etc. in the green bag. Wash-Dry-Fold items will not be pressed! If you want anything pressed then please use the orange bag that we will provide.
4. What items should I NOT put in the Wash-Dry-Fold GREEN bag?
Wash-Dry-Fold literally means we Wash then Dry then Fold so please do NOT put any dry clean or delicate items with materials like: silk, wool, linen, leather, fur, velvet, corduroy, OR any items that you want pressed in the green bag.
5. Can I put men's dress shirts, dress pants or other dry cleaning items in the Wash-Dry-Fold GREEN bag?
Please do NOT put any items in the Wash-Dry-Fold GREEN bag that you want pressed. Put these in a separate ORANGE bag (we also provide this for you.) Because those garments belong to Shirt Laundry and Dry Clean, they will be professionally cleaned and pressed, thus they will be charged by item.
6. What is the difference between Shirt Laundry and Shirt Dry Clean?
Most men's dress shirts are Shirt Laundry. This means that our process is: shirts are laundered, and then put on the shirt pressing machine while the shirt is still wet and pressed with HIGH TEMPERATURE. Thanks to our state of the art shirt pressing machine, we can press it much faster and keep our quality higher than others. This helps to reduce our labor costs so we can pass on the benefit to our customers of much lower prices compared to the dry cleaning process.
The shirt Dry Clean process is: we dry clean them (in GreenEarth® solvent), the dry cleaning process will dry the garments, then we STEAM the garments on our pressing machine (the temperature is much lower than the shirt pressing machine). That involves professional skills and techniques which are best for all garments with materials like silk, linen, wool, velvet, corduroy, spandex, polyester…
7. Can I put comforters and pillows in Wash-Dry-Fold bag?
Comforters, pillows, and blankets are not included in Wash-Dry-Fold membership. These will be charged separately as household items. However, you will get a discount on these items depending on which membership you are enrolled in.
8. Is same day service Wash-Dry-Fold available?
Same day Wash-Dry-Fold service is available on a walk-in basis only, Monday through Friday before 10AM, if you bring it to our North Andover location. Same day service is not available for other locations or for our Route pickup and delivery service.
9. Is there an extra cost for Pickup and Delivery?
No, our Pickup and Delivery service is ABSOLUTLY FREE. You pay the same as store price.
10. Which Wash Dry Fold Membership is right for me?
Silver Membership is ideal for a family up to 2. You will have 40 lbs free, plus 20% discount on dry clean items.
Gold Membership is ideal for a family of 2 to 4. You will have 90 lbs free, plus 25% discount on dry clean items.
Diamond Membership is ideal for a family of 4 to 5. You will have 180 lbs free, plus 28% discount on dry clean items
Platinum Membership is ideal for a family of 4 to 6. You will have 250 lbs free, plus 30% discount on dry clean items.
11. How do I switch memberships?
If the membership you initially selected does not suit your needs, you can change your membership at any time. The new membership will take effect as soon as your current membership expires.
12. Is there a minimum order size?
If you use Wash-Dry-Fold service ON DEMAND, we have a minimum charge of 10 lbs.
If you use Wash-Dry-Fold MEMBERSHIP, there is no minimum.
13. What happens if I go over the pounds included free in my membership?
No problem. If your usage exceeds the amount of your membership, you will be charged a standard per pound fee for each additional pound depending on your membership level.
14. How long is the membership for?
The Wash-Dry-Fold membership is active from the date you sign up for a month (until the date before your sign up date on the following month). And it will automatically renew unless you cancel it. (To cancel, please give us a call or email us.)
15. What if I don't use all my pounds?
They will be lost if not used.
16. How do I cancel my membership?
Please call us or email to request canceling your membership.
17. Are there any additional charges?
You are charged per pound for each pound over your plan's limit. You are also charged separately for any items (such as dry cleaning items, comforters, pillows, blankets) not fitting into the Wash-Dry-Fold category. Your plan's dry cleaning discount is applied, and you are charged accordingly.
18. Will you treat stains for Laundry Shirts, especially collars, cuffs and front?
We do treat stains, with special care taken on collars, cuffs, and food stains. We are very proud of our quality; your shirts will be back looking like new.
19. Why is a women's shirt cleaning more expensive than a men's dress shirt?
The main reason is due to the labor involved in the handling/processing of the different shirts.  Only men's dress shirts are done and charge as laundry shirts because they can be machine-pressed and this is less labor involved. All women's shirts/ blouses fall into the dry cleaning category because they have to be finished by hand as they won't fit on the bulky shirt machine press without ruining their shapes.  Women's shirts have more feminine curvy shapes along with possible layers and slices that must be hand-processed by a skilled professional like dry cleaning instead of being able to be mounted and pressed quickly by the generic shirt pressing machine.
20. Do you charge for replacing missing buttons on shirts?
We replace missing buttons on your shirts FREE of charge when you use our Shirt Laundry services. This is one of our high quality standards.
21. Can I recycle the hangers and plastic bags?
Yes! Just put the hangers (please tie them together so they won't damage your clothes) and plastic bags into one of our delivery bags with your clothing. We will recycle them for you.
22. Is your Dry Cleaning safe?
Our dry cleaning is non-toxic, environmentally friendly, safe for people, and gentle on clothes thanks to our GreenEarth® cleaning process.
The GreenEarth® process uses liquid silicone in place of petrochemicals. Essentially liquified sand, silicone is non-hazardous and non-toxic to the environment. When released to the environment, it safely breaks down into three elements it is made from: sand (SiO2) and trace amounts of water and carbon dioxide. Which means it is safe for the air, water, soil and most especially you.
Silicone fabric finishes can add softness, reduce shrinkage and improve wrinkle recovery, tear strength, abrasion resistance, and loft recovery.
You can see, smell and feel the difference!
Do You...
… overwhelmed by the amount of work that piles up in a day, leading to stress and burnout?
…find yourself constantly running out of time to accomplish your daily tasks and responsibilities?
…often neglect your personal well-being and leisure time due to a jam-packed schedule?
…wish you had more hours in a day to spend with your loved ones, pursue a hobby, or simply unwind?
…struggle to find time to take care of essential yet time-consuming tasks like laundry, contributing to your stress levels?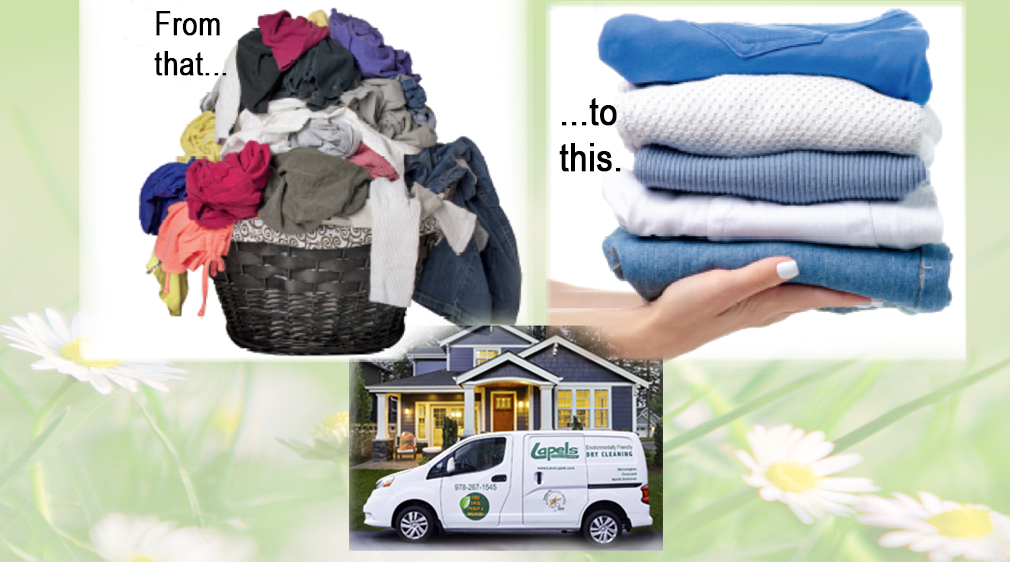 What Do Our Clients Say?     
Our Guarantee of Satisfaction
Lan's Lapels's goals are to make your life easier and we always want you to look your best.  Every dry cleaner talks about how good their quality and service is. But do they guarantee it like we do? We are so proud and confident in our products that we wish to extend this guarantee to you, our most valued client:
Double Your Money Back GUAEANTEE- No Kidding!
Upon receipt of any item that does not meet your expectations, just bring it back within a week. We will redo it FREE of charge! If we still can't meet or exceed your expectations then we will credit your account or refund you twice the cost you paid to have the garment cleaned.
If you are not completely satisfied with our Wash-Dry-Fold product and we cannot quickly and satisfactorily address any issue you have, then simply let us know within two weeks and we will refund your entire month's membership fee.
We Replace Any Missing/Broken Buttons on your shirt for FREE (Applies to shirt laundry services.)!
Are you mad when a laundered shirt comes back from the cleaners with a missing or broken button? With us, you will get the shirt cleaned and we will fix any buttons that are broken or missing for FREE. Our policy with this boutique service is for you to have complete peace of mind when we handle your shirts.  It will come back good as new and perfectly inspected to the highest expectation.  Simply take it home and enjoy!