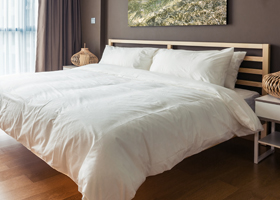 Comforters, Pillows, Blankets, Table Linens, Draperdy & Household Items

Bed is where you read to your kids there, tumble with the dog there, sleep there….

Cleaning your comforters, blankets, pillows at least 4 times a year is necessary to take care of your family's health and reduce the allergens, perspiration, dust mites, dirt and germs in your home.

Tired of trying to stuff your comforter in your washer and dryer and knowing it didn't get clean?! Let us help with our commercial cleaning. All spots are treated as necessary and your comforters and blankets get the ultimate clean and sanitized from our state-of -art equipment.